Jesteś tutaj:
Home
/
H+h WiFi HEATER
H+h WIFI HEATER ADVANTAGES
ABOUT H+h HEATER
The H + h WIFI heater is designed for for use in aluminium and column radiators. The H+ h WIFI heater has the latest built-in WiFi module, it can be controlled by any smartphone or tablet with the SUPLA control application installed. The application is available free of charge in the GooglePlay store and the App Store. The hardware requirements (smartphone / tablet) operating system Android 3.1 or latest, iOS 8.2 or latest. The heater can also work independently (complete with the H + R remote control) or connected to the HOME + system (connected to the H + P programmer).Note: when paired with the H + P programmer, the programmer has a superior function, i.e. the programmer settings will be carried out by the heater.
You can save, configure and control your account on the SUPLA customer account via the App. SUPLA gives you the option to connect up to 100 heaters.
You can also create up to 20 groups of heaters, 10 heaters per group. The configuration method depends only on the user's creativity.
The H + h WIFI heater has the option of programming the air temperature in the daily and weekly cycles and meets the requirements of the EcoDesign Directive (Lot 20) is compatible with the EcoDirective 2018 for electric heaters.
For our other models for bathroom radiators please check our website www.heatpol.com
Other colours are available upon request.
Available outputs: 300W, 600W, 900W, 1200W, 1500W (3/4″) and 2000W (3/4″)
H+h heater is available in 2 versions (standard and short):
STANDARD VERSION – for aluminium radiators (with 1″ connection, reduction to 1/2″ or 3/4″)
SHORT VERSION – for cast iron radiators and tubular steel column radiators (with 5/4″ connection, reduction to 1/2″ or 3/4″) – see photo below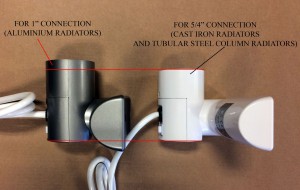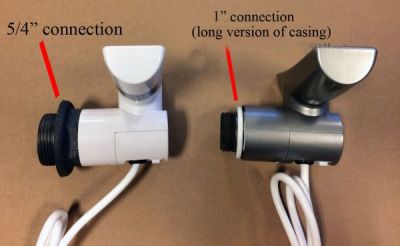 H+h heater require a proper diameter (minimum 20mm) of collector where a heating element (L) will be placed. Please also check a lenght of a collector (Lg). It should be minimum 50mm longer than a lenght of a heating element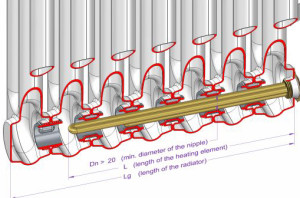 H+h heater requires RCD protection with rated residual operating current not exceeding 30mA. The equipment must be connected to circuit protective conductor (earth).
Heaters general characteristics:
work medium: water or water/glicol mixture
working temperature: 0-65 C (for ambient temperature 10-30 C)
voltage: 230V
electric connection: Unischuko plug with coiled cable or 900mm cable ready for hard wiring
assembled with: flange ½" or ¾" (for 1500W and 2000W)
IP54
Material characteristics:
protective tube: copper
flange: brass
Tube and flange: chromium-plated
insulation: MgO (magnesium oxide)
heating coil: Kanthal wire
regulator: electronic
For our other models for aluminium and column radiators please check our website www.heatpol.com
INSTALLATION
How to match heater to your radiator's output:
Water content [l]
Radiator output [W]
Recommended heater [W]
min
max
min
max
output [W]
heating element lenght [mm]
1,5
3
4,5
7,5
8,5
10
3
4,5
7,5
8,5
10
18
–
350
500
700
900
1050
350
550
850
1050
1300
1800
300
600
900
1200
1500
2000
340
390
440
470
520
570
To match H+h heater to an aluminium radiator please use a water content instead of radiator's output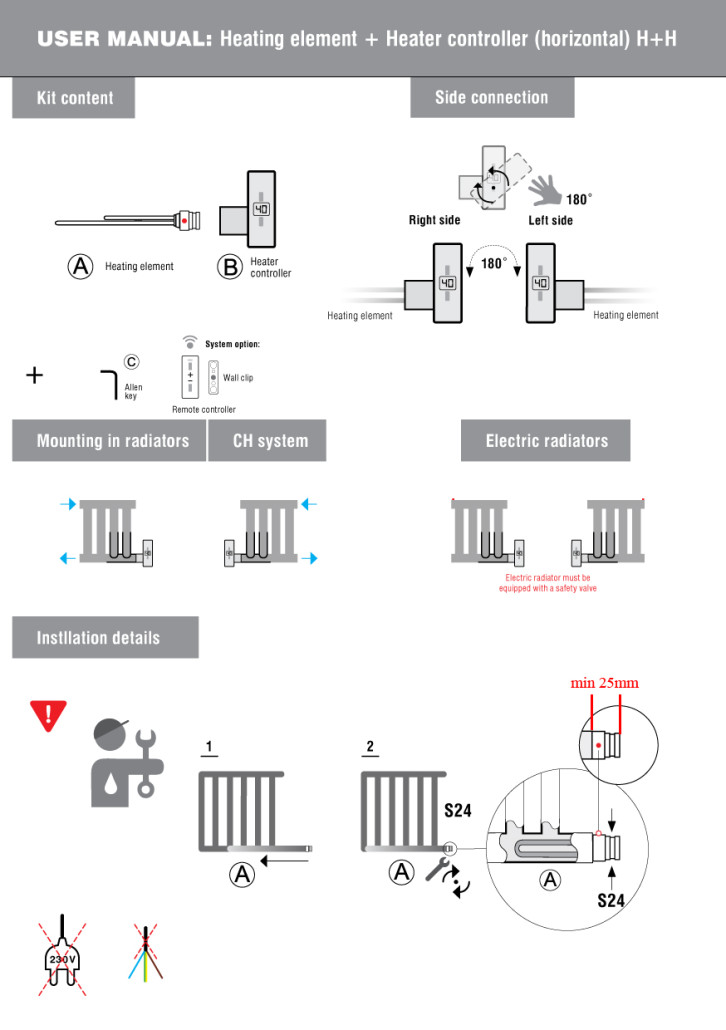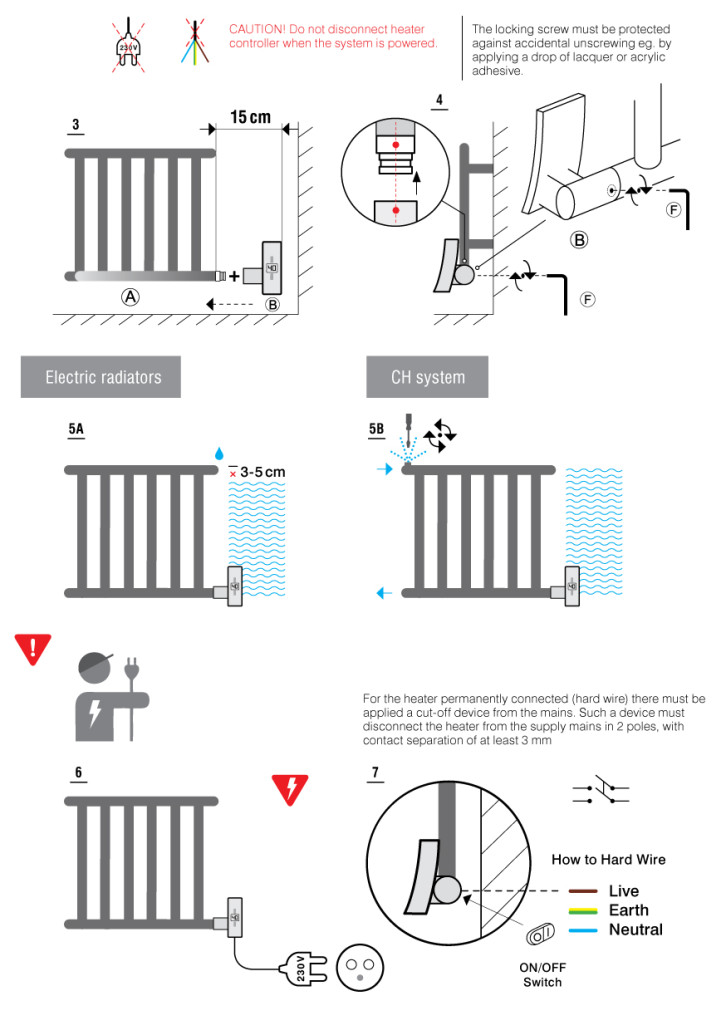 VIDEO MANUAL
Video WIFI APP manual:
Video instruction manual:
CERTIFICATE
You can dowload a Declaration of conformity  for Home+ heaters (H+ and H+h models) –HERE (pdf file)
Office/Production dept

Mników 322
PL 32-084 Morawica
Poland biuro@heatpol.com.pl
www.heatpol.pl
mob: +48 668 015 941
TECHNICAL DEPARTMENT
Janusz Wójtowicz
email:biuro.dt@heatpol.com.pl

+48 12 423-60-65,
+48 12 656-44-91,
fax: +48 12 280-55-20
SALES DEPARTMENT
Agata Dziekan
biuro.agata@heatpol.com.pl
GSM+48602243113
Katarzyna Dziekan
k.dziekan@heatpol.com.pl
GSM+48730200554
+(48) 12 423-60-65,
+(48) 12 656-44-91
fax: +(48) 12 280-55-20